1957 Chevy LEDs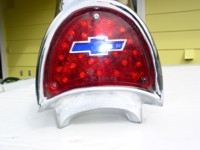 These LEDs install using our 1157 bulb plug, making installation as easy as changing a light bulb. Each board is designed to install within the lens. Placing a small amount of clear silicon around the board edge helps keep boards tightly within the lens.
LEDs come all red or with four blue LEDs centered on the board which light up the blue "Bowtie" when the brake is applied.
As with all ClassicLEDs LED systems, these come with a lifetime warranty to the original owner.